An infinitely flexible space to create your own interactive software
The Max program is modular, with most routines existing as shared libraries. An application programming interface (API) allows third-party development of new routines (named external objects).
What's new in Max 8?
With MC, objects and patch cords contain multiple audio channels. MC will transform how you imagine sound design, effects processing, and mixing. It might be the closest thing to a mind-expanding drug Max has ever had.MC builds on how you already work with Max.
Simply type
mc.
before the name of any MSP object
Connect MC objects with multi-channel patch cords
Mix to any number of audio outputs
With MC, patches with 100 channels of audio look as simple as those with a single channel. The ability to manipulate so many audio channels and operations with so few objects will open up a previously hidden world of ideas.
Explore controlling complex soundscapes with MC
With MC, you can easily apply controls across a space of audio channels.
Everything you love about Max... multiplied
Edit multiple Gen instances simultaneously
Multi-channel signal probe with selectable visualization modes
Build polyphonic synths by assigning MIDI and MPE to individual channel streams
Layer evolving sounds with multiple automation curves
For Max 8, we profiled real-world, messy patches to discover what we could optimize. You'll notice the difference the moment you launch the application.
Max 8 launches between 2x (Mac) and 20x faster (Windows)
Large patches will load up to 4x faster
Complex UI operations are significantly more responsive
In addition to these overall improvements, we've significantly enhanced specific real-time use cases including the coll object (up to 60x faster), Jitter texture to matrix copying, jit.world matrix output, and an updated physics engine.
Max 8 includes a Mappings feature inspired by DAWs such as Ableton Live.
Assign physical controls to your patch in just three steps:
1
Enter Mappings Mode
2
Select a slider
3
Move your controller
Once you've mapped your controller, you can immediately starting playing as you patch.
With Mappings in Max, use a familiar workflow to set up hardware controls for more than just volume or filter cutoff. Trigger complex events, transform visuals, or adjust probabilities — all without adding any objects to your existing patches.
Vizzie is our collection of over 80 high-level modules for interactive video. It's already a perfect launchpad for learning Jitter, but now it's ready for serious use.
Vizzie is now powered by OpenGL for dramatic improvements in performance and flexibility.
Expand beyond 2D by mixing Vizzie modules with OpenGL Jitter features.
Use NodeJS to build custom servers or run small applications directly from your Max patch. With support for the vast NPM library, Node for Max connects your patches to thousands of possibilities.
Launch Node applications from within your Max patch, then control and interact with them.
Max 8 offers a more fluid and optimized patching experience. You'll notice numerous thoughtful refinements in addition to increased responsiveness. A few highlights:
Move objects into and out of patch cords in one step
Manage objects in groups
Filter and timestamp events with a redesigned Max console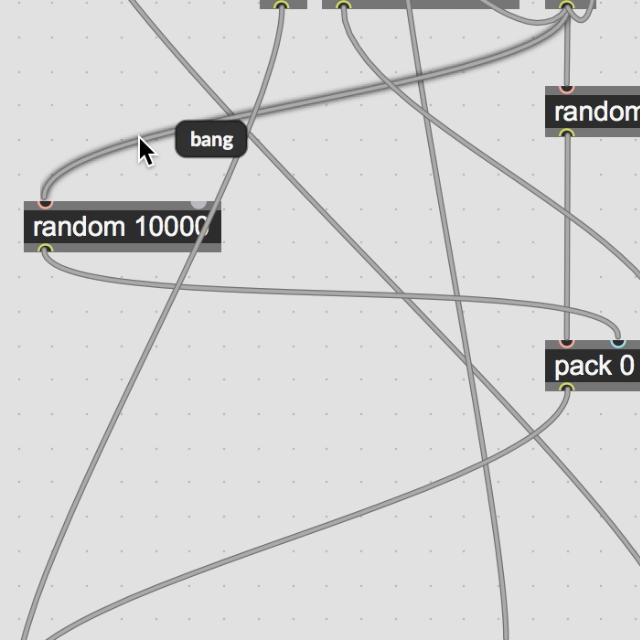 Gain immediate insight on your patch with
event probing
Choose a color theme to customize the Max interface
Use
Operate While Unlocked
to move seamlessly between editing and playing
Using Max doesn't need to be about knowing or remembering every detail.Start typing into the new Search Sidebar to immediately access the thousands of Max examples and tutorials that ship with Max, along with results from web forums and in-depth articles.
You might be surprised what you discover.